First Sunday of the Month Mass Times!
Mass times and locations switch for the first weekend of the month as follows:
Sat., Oct. 31, 2020 - 4:30 PM Mass at Our Lady of Mercy Church
Sun., Nov. 1,  2020 - 9:00 AM Mass at Corpus Christi Church
The schedule switches back for the remainder of the month.
Please note the full Mass Schedule in the left margin of this page.
Spiritans in Mission
Pastor - Fr. Benoit Mukamba, C.S.Sp.
---
From the Pulpit: 
This and Fr. Benoit's prior Sunday reflections are archived on the "The Pastor's Desk" page.
FROM THE PULPIT
THIRTIETH SUNDAY IN ORDINARY TIME YEAR A
SCRIPTURE: Exodus 22: 20-26; Psalm 18: 2-4, 47, 51; 1Thessalonians 1: 5c-10; Matthew 22: 34-40.
REFLECTIONS: Love God and Neighbor.
Fr. Benoit Mukamba, CSSp.
The interactions between Jesus and the Pharisees with the Sadducees make me think of a series of boxing bouts where two archrivals keep on demanding a rematch at every end of a fight. One of the boxers doesn't accept defeat but concedes a more defeat. Simply said, the leaders of the people of Israel wanted to get rid of Jesus; his presence and teaching unsettled them. They wanted him out of their lives.
The question about the first and greatest commandment of law was and still is a tricky test. It demands a deeper and broader comprehension of the entire Judeo-Christian teaching or law. For many centuries, the Jews debated on this issue of the most important commandment of the more-than six hundred laws they held. The lawyer from the Pharisee party didn't expect Jesus to pass the test but Jesus proved his understanding of the Law with great ease. You must love God and neighbor. Both concepts didn't impress the lawyer as Jesus took them from the books of Deuteronomy and Leviticus. But Jesus did what genius do, solving apparently complicated puzzles with great ease, simple and easy.
Firstly, Jesus shows that they aren't two commandments but two sides of the same coin. Secondly, he argues that the whole Law hangs on love. Finally, love is inclusive of Jews and Gentiles. Hence, Jesus surprised the Pharisees who promoted hate against the Gentiles, especially the occupying Romans.
In our own days, we still wrestle with the same question of love for God and Neighbor. In every game, there is a difference between a professional and a fan. Professionals differ in their competitive capacities, while fans are uncompromisingly passionate attached to their champions. Professionals respect and love their opponents. Fans hate and can turn into uncalled for violence. Christians are called to be like professionals showing compassion towards fellow children of God.
Love for God and neighbor involves many dimensions of private and social life. Scripture teaches us that we shouldn't think about our love for God because ours is a mere response to the Love God has for us. God loved us from eternity and brought us into being and sent his only son Jesus our savior. God continues to show his love in our daily living. When we discover God's love for us, we become more respectful of the self, caring and truthful. In the process of responding lovingly to God, we are compelled to face the neighbor to whom we ought to direct our love and actions.
Love is life-giving, patient, kind, not jealous, not pompous, not inflated, not rude, not self-seeking, and not quick-tempered and does not brood over injury. Love, which is the foundation of the reign of God, is contagious. The reading from the book of Exodus explains the social dimensions of love: care for the aliens, showing kindness to the widows and orphans, lending without interests and doing justice to the most vulnerable.
Let us pray, beloved, that in all we do or say, we may not sin against love but rather make God's love manifest to all.
---
Interesting facts about the Spiritans in Dayton, the USA, and around the globe on "The Pastor's Desk".
Today's Reading - NAB at USCCB.org
Saint of the Day - AmericanCatholic.org
USCCB on Religious Liberty
Black History Month Novena
Archbishop Dennis Schnurr, Archbishop of Cincinnati, has sent the following letter to the faithful of the archdiocese asking them to join in a novena for National Black Catholic History Month.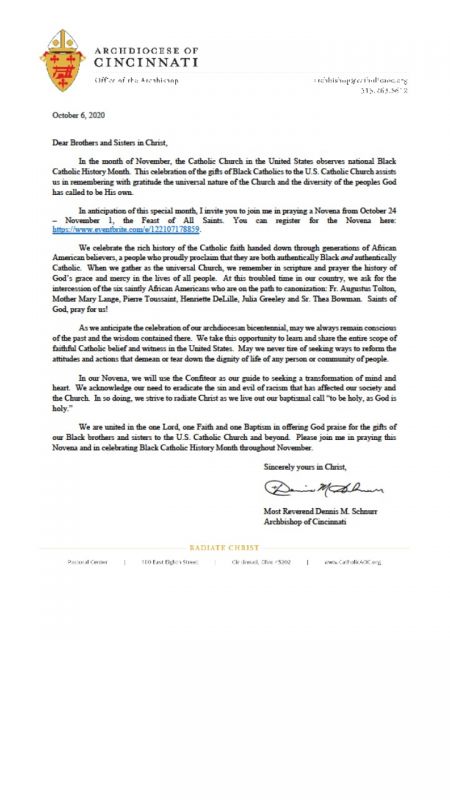 MESSAGE OF HIS HOLINESS POPE FRANCIS FOR WORLD MISSION DAY 2020
MESSAGE OF HIS HOLINESS POPE FRANCIS FOR WORLD MISSION DAY 2020
Here am I, send me (Is 6:8)
Dear Brothers and Sisters,
I wish to express my gratitude to God for the commitment with which the Church throughout the world carried out the Extraordinary Missionary Month last October. I am convinced that it stimulated missionary conversion in many communities on the path indicated by the theme: "Baptized and Sent: the Church of Christ on Mission in the World".
In this year marked by the suffering and challenges created by the Covid-19 pandemic, the missionary journey of the whole Church continues in light of the words found in the account of the calling of the prophet Isaiah: "Here am I, send me" (6:8). This is the ever new response to the Lord's question: "Whom shall I send?" (ibid.). This invitation from God's merciful heart challenges both the Church and humanity as a whole in the current world crisis. "Like the disciples in the Gospel we were caught off guard by an unexpected, turbulent storm. We have realized that we are on the same boat, all of us fragile and disoriented, but at the same time important and needed, all of us called to row together, each of us in need of comforting the other. On this boat… are all of us. Just like those disciples, who spoke anxiously with one voice, saying 'We are perishing' (v. 38), so we too have realized that we cannot go on thinking of ourselves, but only together can we do this" (Meditation in Saint Peter's Square, 27 March 2020). We are indeed frightened, disoriented and afraid. Pain and death make us experience our human frailty, but at the same time remind us of our deep desire for life and liberation from evil. In this context, the call to mission, the invitation to step out of ourselves for love of God and neighbour presents itself as an opportunity for sharing, service and intercessory prayer. The mission that God entrusts to each one of us leads us from fear and introspection to a renewed realization that we find ourselves precisely when we give ourselves to others.
In the sacrifice of the cross, where the mission of Jesus is fully accomplished (cf. Jn 19:28-30), God shows us that his love is for each and every one of us (cf. Jn 19:26-27). He asks us to be personally willing to be sent, because he himself is Love, love that is always "on mission", always reaching out in order to give life. Out of his love for us, God the Father sent his Son Jesus (cf. Jn 3:16). Jesus is the Father's Missionary: his life and ministry reveal his total obedience to the Father's will (cf. Jn 4:34; 6:38; 8:12-30; Heb 10:5-10). Jesus, crucified and risen for us, draws us in turn into his mission of love, and with his Spirit which enlivens the Church, he makes us his disciples and sends us on a mission to the world and to its peoples.
"The mission, the 'Church on the move', is not a programme, an enterprise to be carried out by sheer force of will. It is Christ who makes the Church go out of herself. In the mission of evangelization, you move because the Holy Spirit pushes you, and carries you" (Senza di Lui non possiamo fare nulla: Essere missionari oggi nel mondo. Una conversazione con Gianni Valente, Libreria Editrice Vaticana: San Paolo, 2019, 16-17). God always loves us first and with this love comes to us and calls us. Our personal vocation comes from the fact that we are sons and daughters of God in the Church, his family, brothers and sisters in that love that Jesus has shown us. All, however, have a human dignity founded on the divine invitation to be children of God and to become, in the sacrament of Baptism and in the freedom of faith, what they have always been in the heart of God.
Life itself, as a gift freely received, is implicitly an invitation to this gift of self: it is a seed which, in the baptized, will blossom as a response of love in marriage or in virginity for the kingdom of God. Human life is born of the love of God, grows in love and tends towards love. No one is excluded from the love of God, and in the holy sacrifice of Jesus his Son on the cross, God conquered sin and death (cf. Rom 8:31-39). For God, evil – even sin – becomes a challenge to respond with even greater love (cf. Mt 5:38-48; Lk 22:33-34). In the Paschal Mystery, divine mercy heals our wounded humanity and is poured out upon the whole universe. The Church, the universal sacrament of God's love for the world, continues the mission of Jesus in history and sends us everywhere so that, through our witness of faith and the proclamation of the Gospel, God may continue to manifest his love and in this way touch and transform hearts, minds, bodies, societies and cultures in every place and time.
Mission is a free and conscious response to God's call. Yet we discern this call only when we have a personal relationship of love with Jesus present in his Church. Let us ask ourselves: are we prepared to welcome the presence of the Holy Spirit in our lives, to listen to the call to mission, whether in our life as married couples or as consecrated persons or those called to the ordained ministry, and in all the everyday events of life? Are we willing to be sent forth at any time or place to witness to our faith in God the merciful Father, to proclaim the Gospel of salvation in Jesus Christ, to share the divine life of the Holy Spirit by building up the Church? Are we, like Mary, the Mother of Jesus, ready to be completely at the service of God's will (cf. Lk 1:38)? This interior openness is essential if we are to say to God: "Here am I, Lord, send me" (cf. Is 6:8). And this, not in the abstract, but in this chapter of the life of the Church and of history.
Understanding what God is saying to us at this time of pandemic also represents a challenge for the Church's mission. Illness, suffering, fear and isolation challenge us. The poverty of those who die alone, the abandoned, those who have lost their jobs and income, the homeless and those who lack food challenge us. Being forced to observe social distancing and to stay at home invites us to rediscover that we need social relationships as well as our communal relationship with God. Far from increasing mistrust and indifference, this situation should make us even more attentive to our way of relating to others. And prayer, in which God touches and moves our hearts, should make us ever more open to the need of our brothers and sisters for dignity and freedom, as well as our responsibility to care for all creation. The impossibility of gathering as a Church to celebrate the Eucharist has led us to share the experience of the many Christian communities that cannot celebrate Mass every Sunday. In all of this, God's question: "Whom shall I send?" is addressed once more to us and awaits a generous and convincing response: "Here am I, send me!" (Is 6:8). God continues to look for those whom he can send forth into the world and to the nations to bear witness to his love, his deliverance from sin and death, his liberation from evil (cf. Mt 9:35-38; Lk 10:1-12).
The celebration of World Mission Day is also an occasion for reaffirming how prayer, reflection and the material help of your offerings are so many opportunities to participate actively in the mission of Jesus in his Church. The charity expressed in the collections that take place during the liturgical celebrations of the third Sunday of October is aimed at supporting the missionary work carried out in my name by the Pontifical Mission Societies, in order to meet the spiritual and material needs of peoples and Churches throughout the world, for the salvation of all.
May the Most Blessed Virgin Mary, Star of Evangelization and Comforter of the Afflicted, missionary disciple of her Son Jesus, continue to intercede for us and sustain us.
Rome, Saint John Lateran,
Franciscus
GROW & GO
GROW & GO
Grow+Go content is designed to help parishioners understand what it means to be an evangelizing disciple of Christ.
Using the Sunday Scriptures as the basis for reflection, Grow+Go offers insight into how we can all more fully GROW as disciples and then GO evangelize, fulfilling Christ's Great Commission to "Go, therefore, and make disciples of all nations, baptizing them in the name of the Father, and of the Son, and of the holy Spirit." (Matthew 28:19)
The concept behind the weekly series is to make discipleship and  simple, concrete and relatable.
Look for Grow+Go each week in church, on our parish website, Facebook page, and Twitter.
Pray a Minute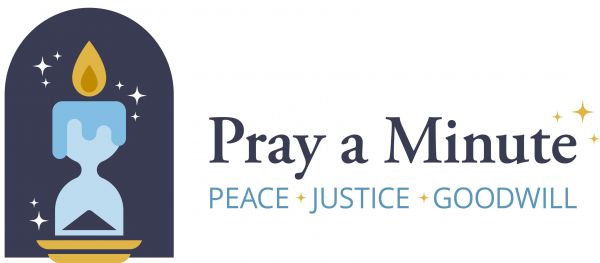 Click anywhere on the picture above to go to the Pray a Minute website.
Radiate Christ - The Pastoral Letter Study Guide
Father Benoit invites Our Lady of Grace parishioners to participate in the "Radiate Christ" Study Guide:
"On June 3, 2020, Archbishop Dennis M. Schnurr released "Radiate Christ," a pastoral
letter to Catholics of the Archdiocese of Cincinnati. The occasion for this document is the
anticipation of the 200th Anniversary of the establishment of the Diocese of Cincinnati, which
we will celebrate in 2021."
Facial Masks Required at Mass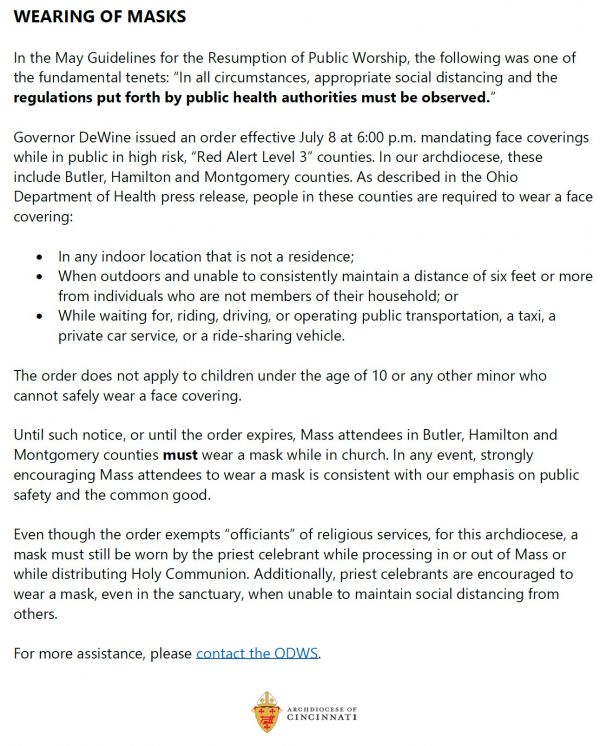 Archdiocesan Holy Communion on the Tongue Guidelines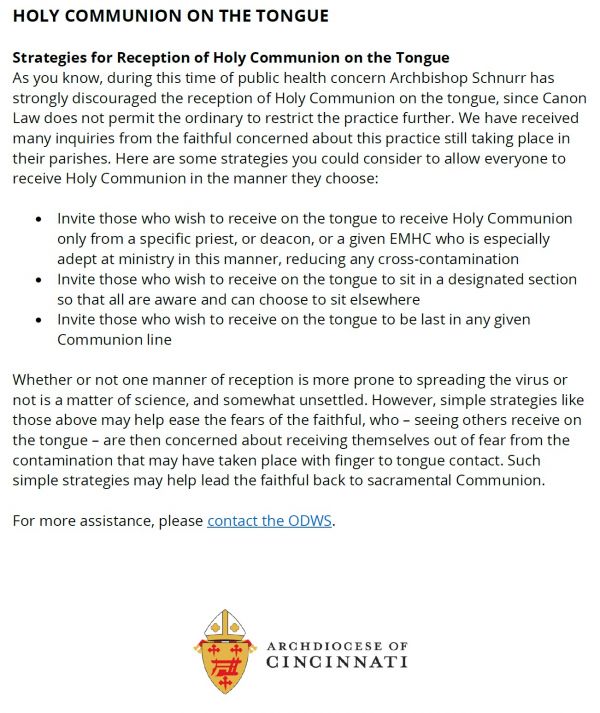 Dear Our Lady of Grace Parishioners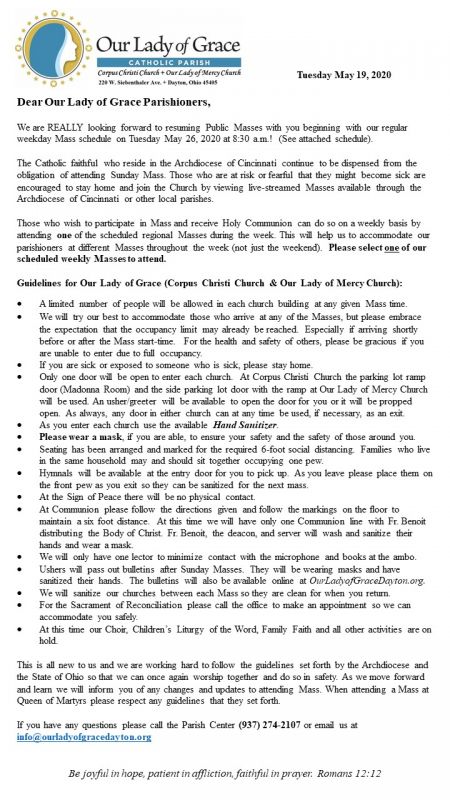 (Mass times and procedures are subject to change)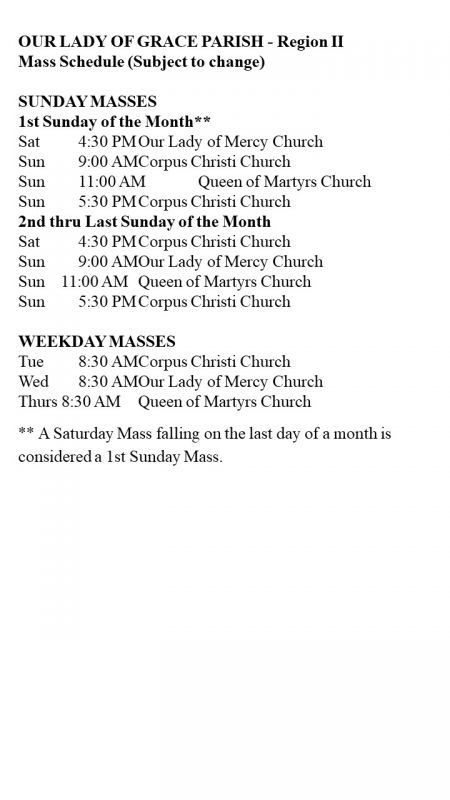 Archdiocesan COVID-19 Response
Public Mass  in Ohio Resume on May 25th
"On May 8, the Bishops of Ohio issued a statement by which we informed Catholics in the State of Ohio that, while making every effort to respect the spirit of the governor's "Responsible Restart Ohio Plan," we will begin to make the public celebration of Mass available once again.  In the Archdiocese of Cincinnati, public Masses will begin on Monday, May 25.." Catholic Bishops of Ohio. May8th, 2020
Please read Archbishop Schnurr's Letter for Details: 
http://www.catholiccincinnati.org/wp-content/uploads/2020/05/AbpSchnurrLetter20200508.pdf
Additional COVID-19 information can be found on the archdiocesan website:
http://www.catholiccincinnati.org/ministries-offices/communication-office/covid-19-response/
In the interim No Masses will be publicly celebrated at either Our Lady of Grace Locations, Our Lady of Mercy Church or Corpus Christi Church.
The Archdiocese of Cincinnati website at the link above provides opportunities to watch live streaming Mass, including from St. Peter in Chains Cathedral via their Facebook Page:
https://www.facebook.com/CatholicCincinnati/
Also please read Fr. Benoit's reflections "From the Pulpit" on the Pastor's Desk page of the OLOG Website.
We're Still Here!
During the current COVID-19 health crisis, the staff of Our Lady of Grace will follow the directives put forward by our state health department and the Archdiocese of Cincinnati. Effective immediately the staff will operate primarily on a telework basis, so the physical office will be closed.
Rest assured, we will be monitoring our phone messages, emails and postal mail to keep in touch with our parishioners.
Please keep up-to-date with parish information through the Weekly Bulletin posted on our web page, Facebook, and listen for "One Call Now" telephone notifications. You can send us an email info@ourladyofgracedayton.org call us at 937-274-2107 or drop us a letter.
We're here if you need us!
---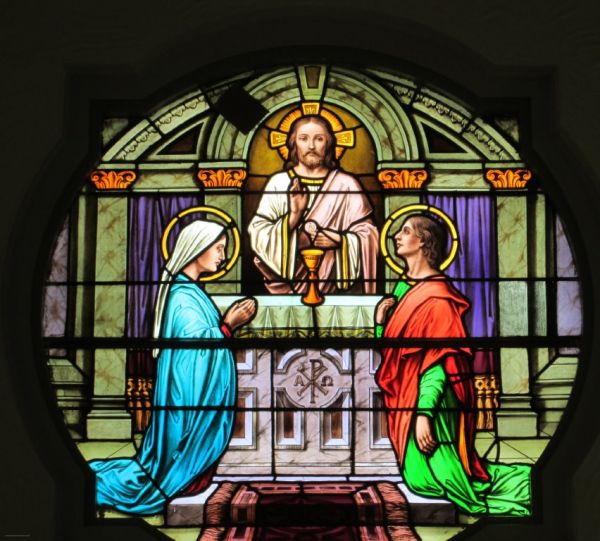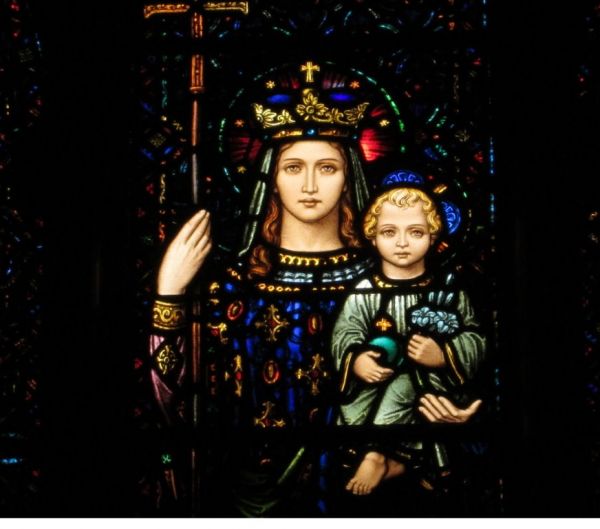 Our Lady of Grace Parish - Our Lady of Mercy Church + Corpus Christi Church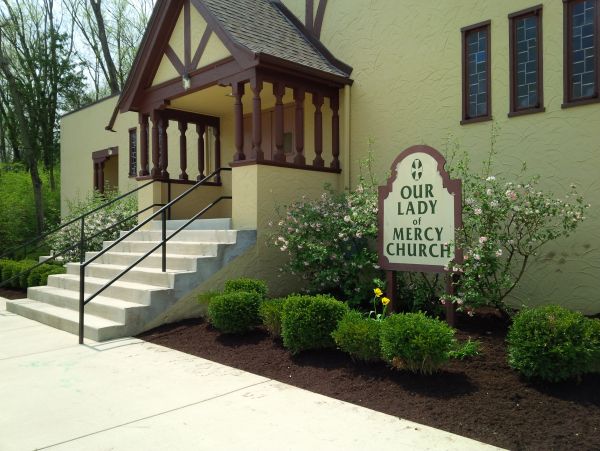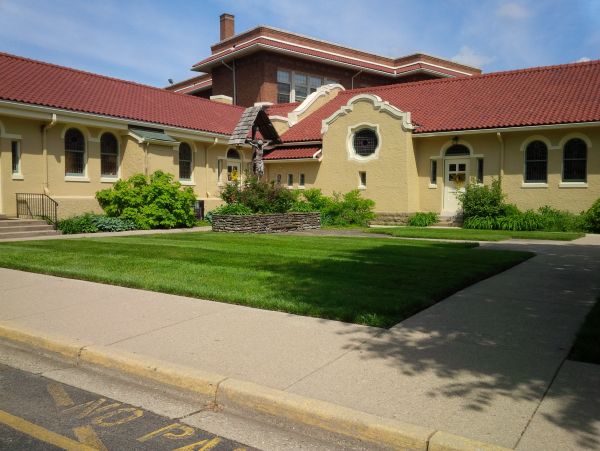 5:30 P.M. Sunday Evening Mass at Corpus Christi
Our Lady of Grace Parish 5:30 P.M. Sunday Evening Mass at Corpus Christi
Everyone is welcome to attend. We especially hope that young adults from our parish and the Dayton area will be encouraged to attend.  Fr. Ted Cassidy, a Marianist priest, will be presiding over most of the Masses.   If you would like to participate in the Sunday evening services as a Eucharistic Minister, Server, Lector, Petition writer, Greeter, or Choir member, please contact our Parish office 937 274-2107 ext 100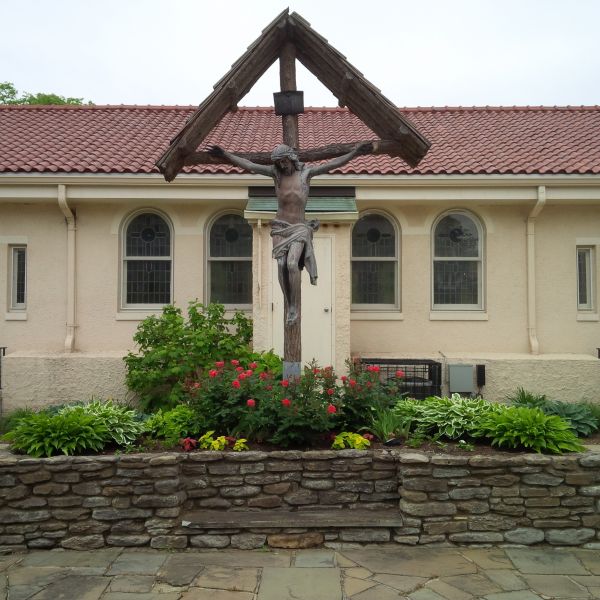 SPIRITAN PARISHES IN DAYTON - OHIO
SPIRITAN PARISHES IN DAYTON - OHIO

The Spiritans began working in Ohio (Fr. Steurer in Troy, St Patrick's, 1872, and Fr. Ott in Piqua, St Boniface, with 5 mission stations, 1873) even before the arrival of their 1st Provincial (Fr. Strub in 1874).
- In 1928, they took over the ministry to the African Americans in Cincinnati (St. John the Baptist Church). That same year, the Archbishop asked them to take care of the growing African American Community in Dayton.
- Since then, the Spiritans have dedicated their ministry among African American Catholics and all who joined, and they still are continuing ministering among urban and rural parishes.
- At the moment they serve 5 churches in the Dayton area: Corpus Christi, Our Lady of Mercy (Our Lady of Grace Parish), Queen of Martyrs Parish, St. Benedict the Moor, and St. Mary, striving to be a light that shines to brighten the life of the people they serve in the Archdiocese of the Most Rev. Dennis Marion Schnurr.
Assumption Food Pantry Joins CSSMV
For 49 years the Assumption Food Pantry has been a part of many lives: those who have received a helping hand when in need and those who have volunteered with love and dedication. It is with mixed feelings that we are no longer operating independently at the former Assumption Church site.
By God's glory our sorrows are always transformed to new life.  Tuesday, March 1, 2016, marked a new beginning as we partner with the Catholic Social Services of the Miami Valley (CSSMV) Food Pantry.  This partnership allows us to provide expanded services and resources to the Assumption Food Pantry clients. Cindy Rogerson will continue serving our brothers and sisters in need on-site at the CSSMV location, 922 West Riverview Avenue, and she will keep us up to date with news and information.
We would like to express our great appreciation to all who have volunteered their time and talent, and given monetary or food donations over the past 49 years.  Our Lady of Grace Parish is committed to the success of this new partnership and we pray that you will continue to help us support this vital community resource as you have in the past.  We will continue to provide food chests at each worship site for donations of staples and food pantry donation envelopes, and we encourage continued volunteerism at CSSMV.
Our Lady of Grace is possible because of those who give of their Time, Talent and Treasure.
Click here for more information about the CSSMV Food Pantry Website