Pope Francis' Letter, Fratelli-Tutti
Pope Francis' Letter, Fratelli-Tutti.
Shadows over the closed world (Ch. 1) are spreading everywhere, leaving injured people by the roadside, cast out and discarded. The shadows plunge humanity into confusion, loneliness, and desolation. When we come upon an injured stranger on the road (Ch. 2), we can assume one of two attitudes: we can pass by or we can stop to help. The type of person we are and the type of political, social or religious group we belong to will be defined by whether we include or exclude the injured stranger.
God is universal love, and as long as we are part of that love and share in it, we are called to universal fraternity, which is openness to all. There are no "others," no  "them," there is only "us". We want, with God and in God, an open world (Ch. 3), a world without walls, without borders, without people rejected, without strangers. To  achieve this world, we must have an open heart (Ch. 4). We need to experience          social friendship, seek what is morally good, and practice a social ethic because we know we are part of a universal fraternity. We are called to solidarity, encounter, and gratuitousness.
To create an open world with an open heart, it is necessary to engage in politics, and a better kind of politics (Ch. 5) is essential. Politics for the common and universal good. Politics that is "popular" because it is for and with the people. It is politics with social charity that seeks human dignity. The politics of men and women who practice political love by integrating the economy with the social and cultural fabric into a consistent and life-giving human project.
Knowing how to dialogue is the way to open the world and build social friendship (Ch. 6) which manifests an open heart and provides the basis for a better politics. Dialogue seeks and respects the truth. Dialogue gives rise to the culture of  encounter, which becomes a way of life, a passionate desire. Whoever dialogues is  generous, recognizing and respecting the other.
But it is not enough just to engage in encounter. We have to face the reality of the injuries of past mis-encounters, and so we have to establish and walk the paths of  re-encounter (Ch. 7). We need to heal the wounds, which requires seeking and offering forgiveness. To forgive is not to forget. We need to be daring and start from the truth—the recognition of historical truth—which is the inseparable companion of justice and mercy. All this is indispensable for advancing towards peace. Conflict is inevitable on the road to peace, but violence is inadmissible. That is why war is a  recourse that must be rejected, and the death penalty a practice that must be eliminated.
The different religions of the world recognize human beings as God's creatures. As creatures, we are in a relationship of fraternity. The religions are called to the service of fraternity in the world (Ch. 8). In dialogue and with hearts open to the  world, we can establish social friendship and fraternity. In our openness to the Father of all, we recognize our universal condition as brothers and sisters. For Christians, the wellspring of human dignity and fraternity is in the Gospel of Jesus Christ, and that is what inspires our actions and commitments. This path of fraternity also has a Mother called Mary.
Faced with those injured by the shadows of a closed world and still lying by the  roadside, we are invited by Pope Francis to make our own the world's desire for fraternity, starting with the recognition that we are "Fratelli tutti  ", brothers and sisters all. (AOC).
Pastor - Fr. Benoit Mukamba, C.S.Sp.
---
From the Pulpit: 
This and Fr. Benoit's prior Sunday reflections are archived on the "The Pastor's Desk" page.
Solemnity of our Lord Jesus Christ, King of the Universe
Return and Judgment
SCRIPTURE: Ezekiel 34: 11-12, 15-17; Psalm 23: 1-3, 5-6; 1Cor 15: 20-26, 28; Matthew 25: 31-46.
On this celebration of Christ the King, the Gospel passage and the prophecy of Ezekiel present us a double scenario; one of the glorious and eschatological return of Jesus Christ as King and sole shepherd of his people, and the other of Christ Jesus as Judge whose judgment will be based on human acts of companion towards Himself identified with the suffering people.
During the past Sundays, the Word of God has been reminding us of the importance of the divine gifts of faith, hope and love. A true disciple of Jesus is one animated by these spiritual gifts. The glorious return of King Jesus is joyfully awaited by those living according to the Spirit of Jesus. The Reign of God in each one of us takes roots slowly but firmly, like in the parable of the mustard seed, and gives abundant fruits or profits like the parable of talents. The King of God is all embracing without consideration of difference in ritual worships. Apparently, the only measuring stick is the bond of love and concern that reaches deep into the human heart. The judgment is based on whether we meet the very basic human needs of fellow human beings.
There is a need to note the difference existing between humanitarian acts of kindness and the evangelical responses to human sufferings or deprivation. The disciple does good deeds to others because enabled by faith in the Risen Lord, he or she sees Christ in the needy person. The disciple sees Jesus in his disfigured form like in the hours of the condemned, cross-carrying and crucified Jesus on Calvary. The disciple perceives his fear and shame, his brokenness and sense of loss, his indignity and undeserving respect. Those capable of discovering Jesus and serving him under such conditions will obtain the everlasting reward of life, joy and peace. Like "the centurion, who stood facing Jesus, saw how he breathed his last, he said, "Truly this man was the Son of God!"(Mark 15: 39).
The humanitarian acts promote human welfare and ideas of people; they bring about change in the normal behavioral patterns of a society and help to aid by giving money or necessities for those in need. Humanitarian acts are based on being ethical and promoting a sustainable and peaceful society. A humanitarian action begins from man and ends in man and his environment. Its motive is human welfare. A humanitarian act makes a member of the city look respectable. The same act promotes the human dignity of the helped member.
Therefore, it is necessary for the disciples of Jesus to be motivated by faith, hope and love in God, in order to merit the King of God.
---
Interesting facts about the Spiritans in Dayton, the USA, and around the globe on "The Pastor's Desk".
Today's Reading - NAB at USCCB.org
Saint of the Day - AmericanCatholic.org
USCCB on Religious Liberty
Spiritans in Mission
GROW & GO
GROW & GO
Grow+Go content is designed to help parishioners understand what it means to be an evangelizing disciple of Christ.
Using the Sunday Scriptures as the basis for reflection, Grow+Go offers insight into how we can all more fully GROW as disciples and then GO evangelize, fulfilling Christ's Great Commission to "Go, therefore, and make disciples of all nations, baptizing them in the name of the Father, and of the Son, and of the holy Spirit." (Matthew 28:19)
The concept behind the weekly series is to make discipleship and  simple, concrete and relatable.
Look for Grow+Go each week in church, on our parish website, Facebook page, and Twitter.
Pray a Minute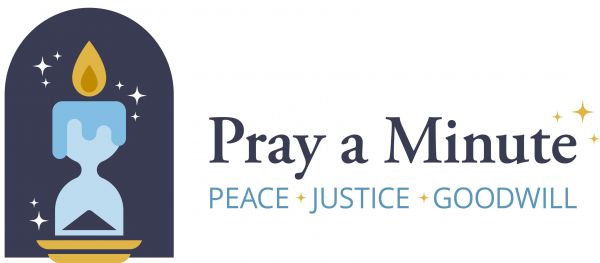 Click anywhere on the picture above to go to the Pray a Minute website.
Radiate Christ - The Pastoral Letter Study Guide
Father Benoit invites Our Lady of Grace parishioners to participate in the "Radiate Christ" Study Guide:
"On June 3, 2020, Archbishop Dennis M. Schnurr released "Radiate Christ," a pastoral
letter to Catholics of the Archdiocese of Cincinnati. The occasion for this document is the
anticipation of the 200th Anniversary of the establishment of the Diocese of Cincinnati, which
we will celebrate in 2021."
Facial Masks Required at Mass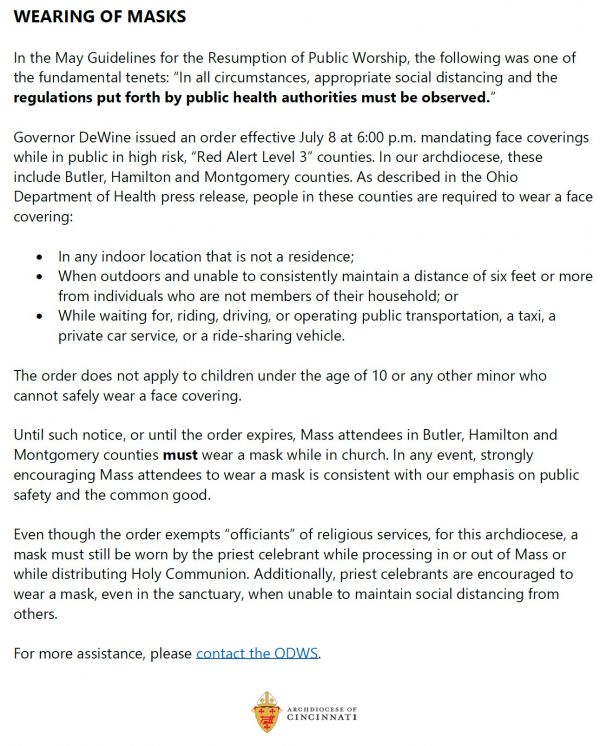 Archdiocesan Holy Communion on the Tongue Guidelines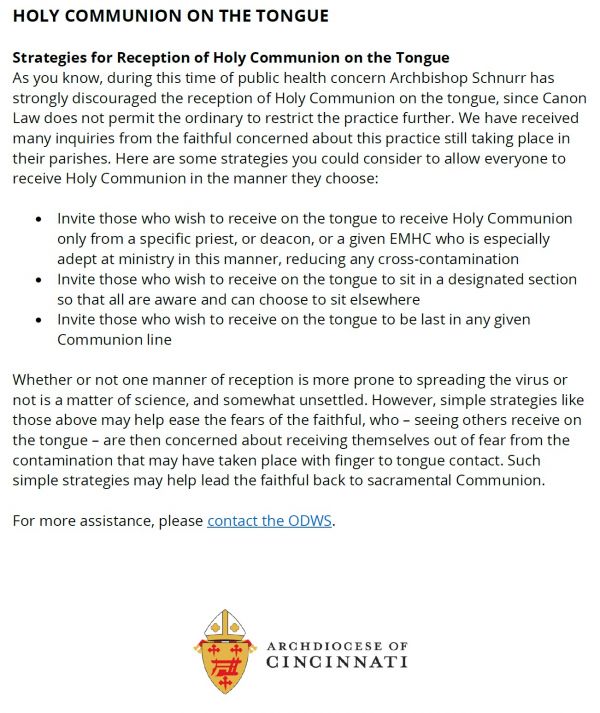 Dear Our Lady of Grace Parishioners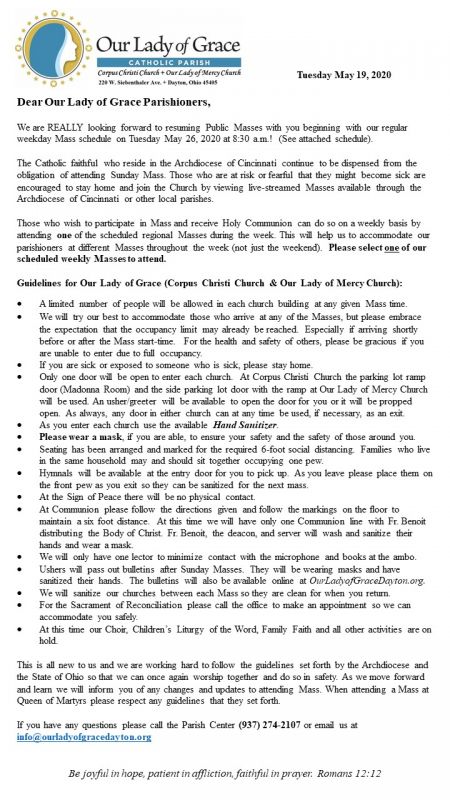 (Mass times and procedures are subject to change)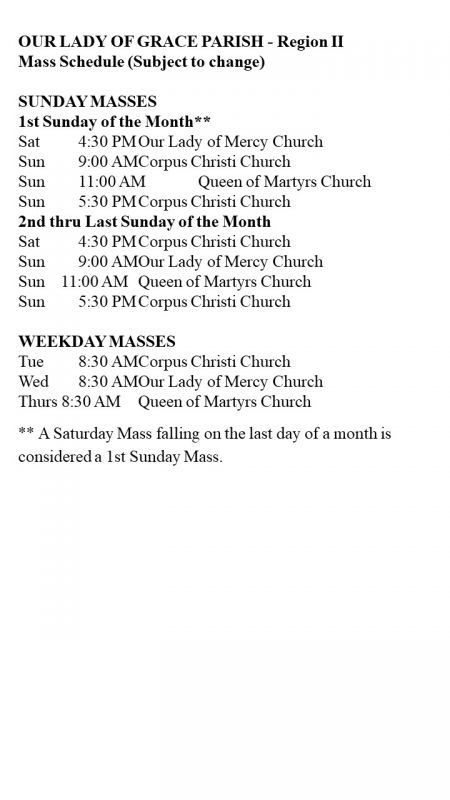 Archdiocesan COVID-19 Response
Public Mass  in Ohio Resume on May 25th
"On May 8, the Bishops of Ohio issued a statement by which we informed Catholics in the State of Ohio that, while making every effort to respect the spirit of the governor's "Responsible Restart Ohio Plan," we will begin to make the public celebration of Mass available once again.  In the Archdiocese of Cincinnati, public Masses will begin on Monday, May 25.." Catholic Bishops of Ohio. May8th, 2020
Please read Archbishop Schnurr's Letter for Details: 
http://www.catholiccincinnati.org/wp-content/uploads/2020/05/AbpSchnurrLetter20200508.pdf
Additional COVID-19 information can be found on the archdiocesan website:
http://www.catholiccincinnati.org/ministries-offices/communication-office/covid-19-response/
In the interim No Masses will be publicly celebrated at either Our Lady of Grace Locations, Our Lady of Mercy Church or Corpus Christi Church.
The Archdiocese of Cincinnati website at the link above provides opportunities to watch live streaming Mass, including from St. Peter in Chains Cathedral via their Facebook Page:
https://www.facebook.com/CatholicCincinnati/
Also please read Fr. Benoit's reflections "From the Pulpit" on the Pastor's Desk page of the OLOG Website.
We're Still Here!
During the current COVID-19 health crisis, the staff of Our Lady of Grace will follow the directives put forward by our state health department and the Archdiocese of Cincinnati. Effective immediately the staff will operate primarily on a telework basis, so the physical office will be closed.
Rest assured, we will be monitoring our phone messages, emails and postal mail to keep in touch with our parishioners.
Please keep up-to-date with parish information through the Weekly Bulletin posted on our web page, Facebook, and listen for "One Call Now" telephone notifications. You can send us an email info@ourladyofgracedayton.org call us at 937-274-2107 or drop us a letter.
We're here if you need us!
---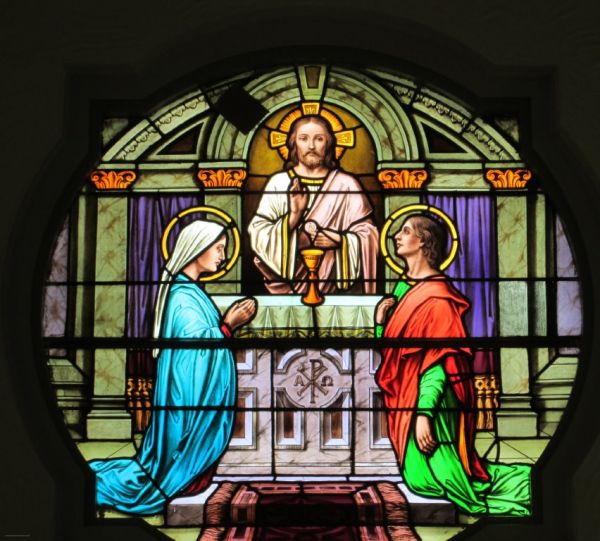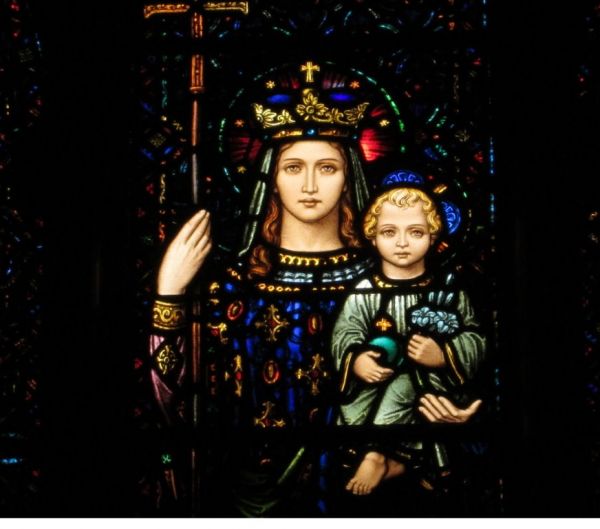 Our Lady of Grace Parish - Our Lady of Mercy Church + Corpus Christi Church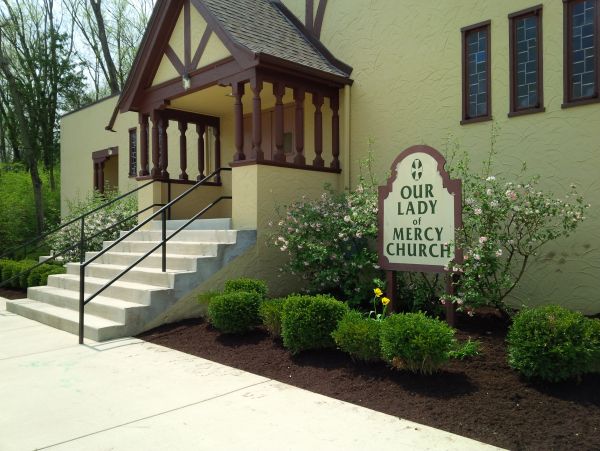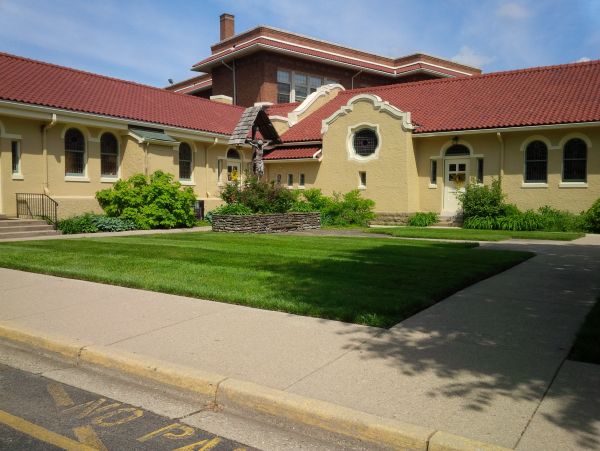 5:30 P.M. Sunday Evening Mass at Corpus Christi
Our Lady of Grace Parish 5:30 P.M. Sunday Evening Mass at Corpus Christi
Everyone is welcome to attend. We especially hope that young adults from our parish and the Dayton area will be encouraged to attend.  Fr. Ted Cassidy, a Marianist priest, will be presiding over most of the Masses.   If you would like to participate in the Sunday evening services as a Eucharistic Minister, Server, Lector, Petition writer, Greeter, or Choir member, please contact our Parish office 937 274-2107 ext 100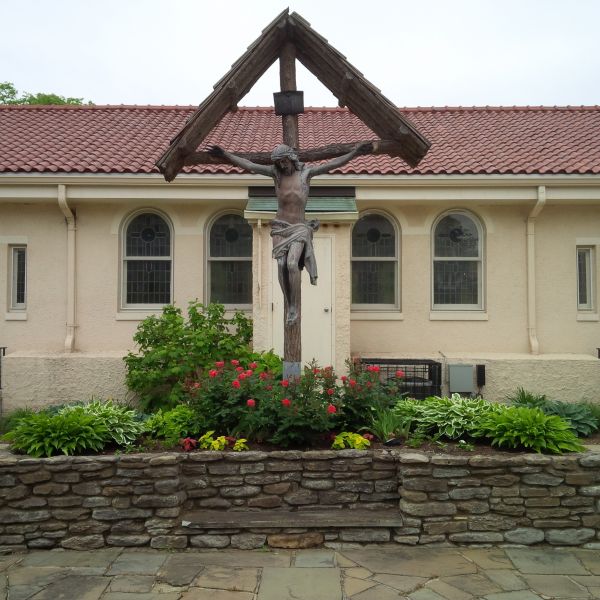 SPIRITAN PARISHES IN DAYTON - OHIO
SPIRITAN PARISHES IN DAYTON - OHIO

The Spiritans began working in Ohio (Fr. Steurer in Troy, St Patrick's, 1872, and Fr. Ott in Piqua, St Boniface, with 5 mission stations, 1873) even before the arrival of their 1st Provincial (Fr. Strub in 1874).
- In 1928, they took over the ministry to the African Americans in Cincinnati (St. John the Baptist Church). That same year, the Archbishop asked them to take care of the growing African American Community in Dayton.
- Since then, the Spiritans have dedicated their ministry among African American Catholics and all who joined, and they still are continuing ministering among urban and rural parishes.
- At the moment they serve 5 churches in the Dayton area: Corpus Christi, Our Lady of Mercy (Our Lady of Grace Parish), Queen of Martyrs Parish, St. Benedict the Moor, and St. Mary, striving to be a light that shines to brighten the life of the people they serve in the Archdiocese of the Most Rev. Dennis Marion Schnurr.
Assumption Food Pantry Joins CSSMV
For 49 years the Assumption Food Pantry has been a part of many lives: those who have received a helping hand when in need and those who have volunteered with love and dedication. It is with mixed feelings that we are no longer operating independently at the former Assumption Church site.
By God's glory our sorrows are always transformed to new life.  Tuesday, March 1, 2016, marked a new beginning as we partner with the Catholic Social Services of the Miami Valley (CSSMV) Food Pantry.  This partnership allows us to provide expanded services and resources to the Assumption Food Pantry clients. Cindy Rogerson will continue serving our brothers and sisters in need on-site at the CSSMV location, 922 West Riverview Avenue, and she will keep us up to date with news and information.
We would like to express our great appreciation to all who have volunteered their time and talent, and given monetary or food donations over the past 49 years.  Our Lady of Grace Parish is committed to the success of this new partnership and we pray that you will continue to help us support this vital community resource as you have in the past.  We will continue to provide food chests at each worship site for donations of staples and food pantry donation envelopes, and we encourage continued volunteerism at CSSMV.
Our Lady of Grace is possible because of those who give of their Time, Talent and Treasure.
Click here for more information about the CSSMV Food Pantry Website