Pastor - Fr. Benoit Mukamba, C.S.Sp.
---
From the Pulpit: 
This and Fr. Benoit's prior Sunday reflections are archived on the "The Pastor's Desk" page.
Eighteenth Sunday Sunday of Ordinary Time, Year-A; Give them some food Yourselves
Scripture: Isaiah 55: 1-3; Romans 8: 35, 37-39; Matthew 14: 13-21
Today's readings present us with a God who is so generous  and invites us to come to him for water, grain, wine and milk freely and without money. The Gospel starts with the reaction of Jesus at the news of the beheading of John the Baptist and proceeds with the story of the feeding of five thousand and more persons. For me, this first verse of today's Gospel encapsulates the meaning of the rest of the text.
From the human perspective, Jesus was a relative of John Baptist. It is John who baptized Jesus and presented him to the world. From John's company, Jesus got two of his close collaborators. John understood Jesus well and Jesus appreciated John profoundly. He knew John profoundly well. Jesus would later say about John that among those born of women there is none greater than John. Therefore, having lost to a brutal death someone so dear and valuable, Jesus withdrew to a deserted place to be alone, to pray.
But people wouldn't give him a break; they arrived ahead to wait for him. In your personal case, how would you have reacted to such a situation? Wouldn't you have asked to be left alone and take some time to grieve? But, Jesus shepherd's heart was moved with compassion and began to teach the people. By caring for the people instead of taking care of himself, Jesus seems to answer Saint Paul speaking in the second reading, what will separate me from the love of people? The people I came to redeem? Jesus' love for us is full of passion that nothing would deter him from loving us and loving us to his own death. And in response we can declare with Saint Paul too, nothing will be able to separate us from the love of God in Christ Jesus our Lord.
The disciples got exhausted and wanted a break now. They asked the  Lord Jesus to dismiss the people. Do you know why these disciples wanted to dismiss the people? I suspect they wanted to enjoy their dinner of five loaves and two fish alone. Jesus refused to send the people away but told the disciples to give food to the people.  The disciples thought what they had as food was too little to share. Like most of us, we think we don't have enough for ourselves and to give away. But the Lord proves us the contrary; nothing is too small to share if we were generous enough and trusting in God's providence.
When we invite God in to whatever we do, the results will be astonishing. What we thought earlier we were incapable to achieve, becomes possible and within our reach. What we were unable to understand becomes clear to our comprehension and articulation. God provides us with necessities of life free of charge. What God has to offer is satisfying and will be long lasting compared to all else for which people spend their money on. That's why the prophecy of Isaiah declares, "Come to me heedfully, listen, that you may have life.
May the Holy Spirit enlighten each of us to grasp the passionate love of Christ Jesus for us.
---
Spiritans:
Interesting facts about the Spiritans in Dayton, the USA, and around the globe on "The Pastor's Desk".
Today's Reading - NAB at USCCB.org
Saint of the Day - AmericanCatholic.org
USCCB on Religious Liberty
Radiate Christ - The Pastoral Letter Study Guide
Father Benoit invites Our Lady of Grace parishioners to participate in the "Radiate Christ" Study Guide:
"On June 3, 2020, Archbishop Dennis M. Schnurr released "Radiate Christ," a pastoral
letter to Catholics of the Archdiocese of Cincinnati. The occasion for this document is the
anticipation of the 200th Anniversary of the establishment of the Diocese of Cincinnati, which
we will celebrate in 2021."
Now and At the Hour of our Death
DIVINE WORSHIP AND SACRAMENTS Office of the Archdiocese of Cincinnati:
Now and At the Hour of Our Death
Catholic Medical and Funeral Planning for the End of Life
Tuesday August 18, 2020 7:00-8:30 PM    OR    Wednesday, August 19, 2020 1:30-3:00 PM
It's never too soon to begin thinking about our own funeral, end-of-life care, and who will be making those decisions.  Join us for this virtual workshop to learn about how to get started on planning a Catholic funeral and what the Church teaches on key end-of-life issues.
To find out more and register for this FREE virtual workshop go to:
http://www.catholiccincinnati.org/ministries-offices/worship/now-and-at-the-hour-of-our-death/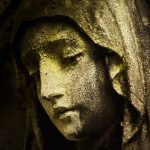 Facial Masks Required at Mass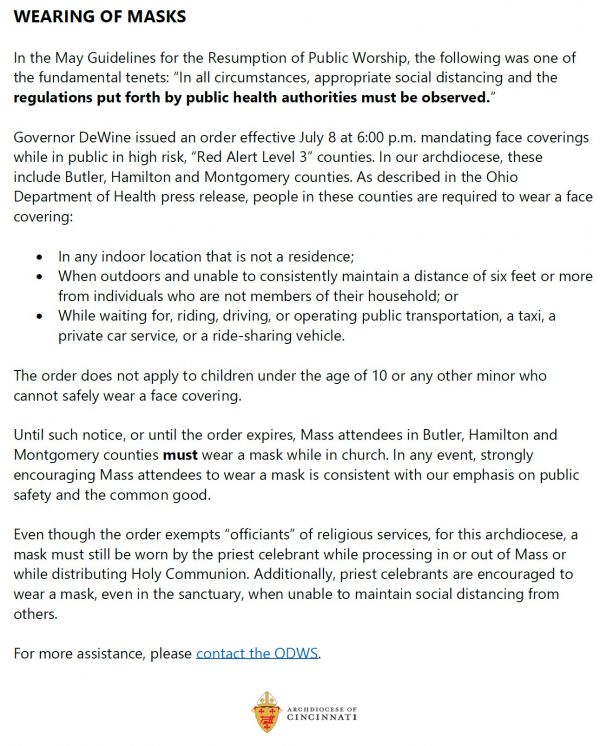 Archdiocesan Holy Communion on the Tongue Guidelines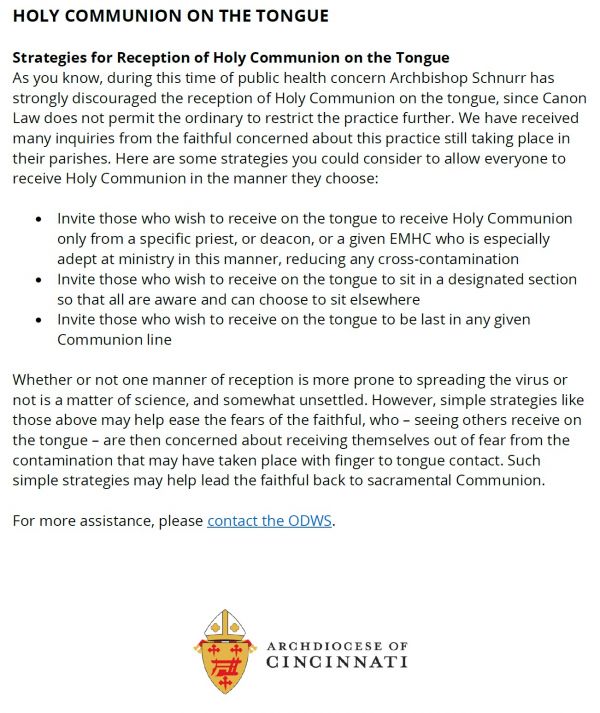 Dear Our Lady of Grace Parishioners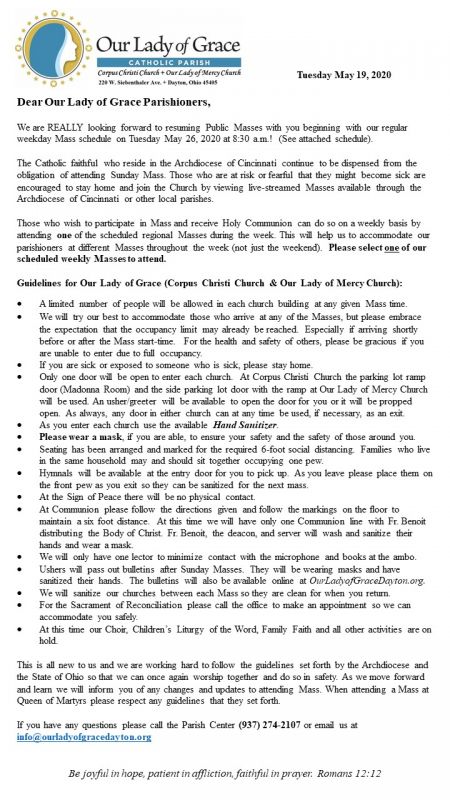 (Mass times and procedures are subject to change)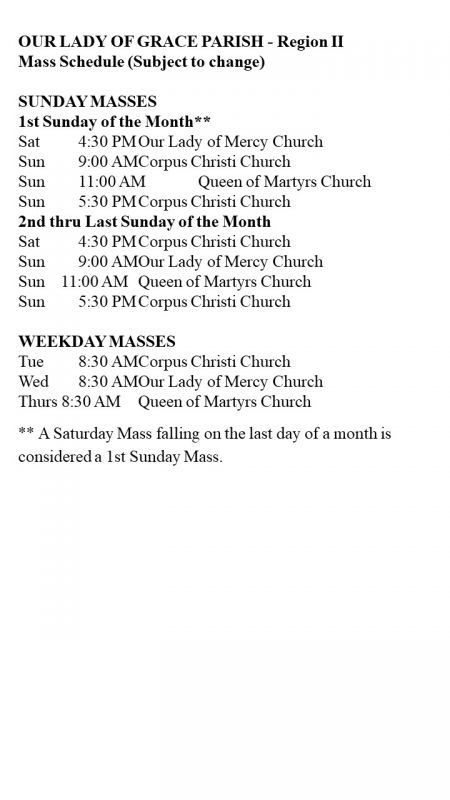 Archdiocesan COVID-19 Response
Public Mass  in Ohio Resume on May 25th
"On May 8, the Bishops of Ohio issued a statement by which we informed Catholics in the State of Ohio that, while making every effort to respect the spirit of the governor's "Responsible Restart Ohio Plan," we will begin to make the public celebration of Mass available once again.  In the Archdiocese of Cincinnati, public Masses will begin on Monday, May 25.." Catholic Bishops of Ohio. May8th, 2020
Please read Archbishop Schnurr's Letter for Details: 
http://www.catholiccincinnati.org/wp-content/uploads/2020/05/AbpSchnurrLetter20200508.pdf
Additional COVID-19 information can be found on the archdiocesan website:
http://www.catholiccincinnati.org/ministries-offices/communication-office/covid-19-response/
In the interim No Masses will be publicly celebrated at either Our Lady of Grace Locations, Our Lady of Mercy Church or Corpus Christi Church.
The Archdiocese of Cincinnati website at the link above provides opportunities to watch live streaming Mass, including from St. Peter in Chains Cathedral via their Facebook Page:
https://www.facebook.com/CatholicCincinnati/
Also please read Fr. Benoit's reflections "From the Pulpit" on the Pastor's Desk page of the OLOG Website.
We're Still Here!
During the current COVID-19 health crisis, the staff of Our Lady of Grace will follow the directives put forward by our state health department and the Archdiocese of Cincinnati. Effective immediately the staff will operate primarily on a telework basis, so the physical office will be closed.
Rest assured, we will be monitoring our phone messages, emails and postal mail to keep in touch with our parishioners.
Please keep up-to-date with parish information through the Weekly Bulletin posted on our web page, Facebook, and listen for "One Call Now" telephone notifications. You can send us an email info@ourladyofgracedayton.org call us at 937-274-2107 or drop us a letter.
We're here if you need us!
---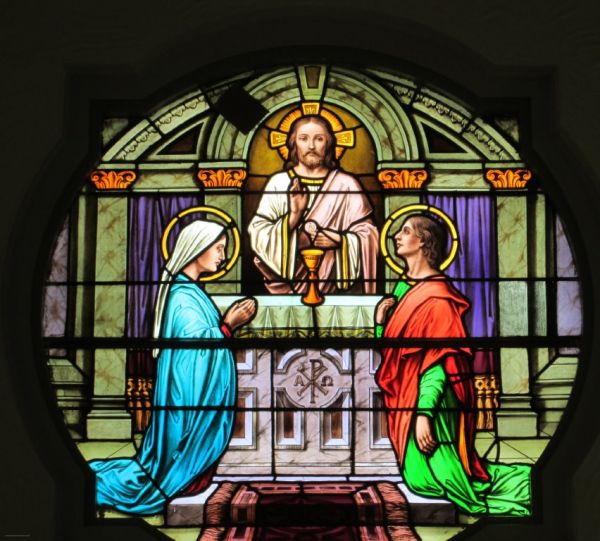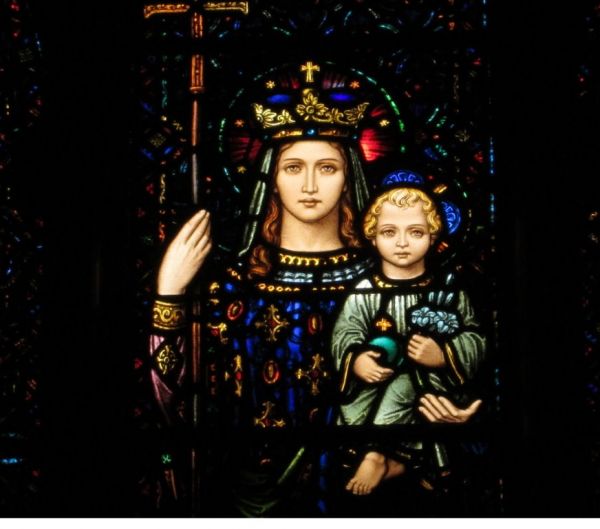 OLOG 2020 Commission Nominations
Nominations for member-at-large positions in Parish Council and Faith Formation Commission are being collected. We are also asking for volunteers for Bereavement Committee.
Please prayerfully consider nominating yourself and/or those members of our community whose talents would benefit these Ministries.  
Click Here for the --> Nominations Form  Word Document.  
Please fill out and use the "Save As" function ("Save" by itself may not work) and email the completed form to info@ourladyofgracedayton.org
Note:  You may have to click "Enable Editing" in Word in order to fill out the form.

You may also print out a hardcopy, fill it in by hand, and mail it to the Parish Center.
The parish elections will be held in May 2020.
Our Lady of Grace Parish - Our Lady of Mercy Church + Corpus Christi Church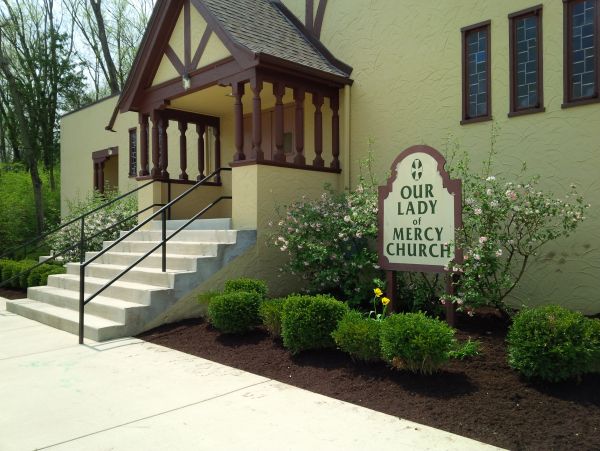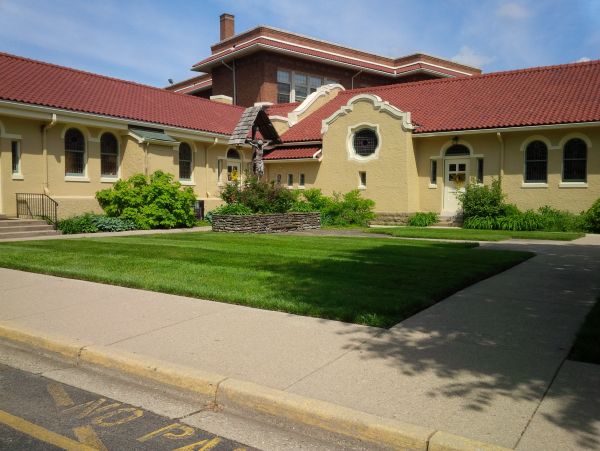 5:30 P.M. Sunday Evening Mass at Corpus Christi
Our Lady of Grace Parish 5:30 P.M. Sunday Evening Mass at Corpus Christi
Everyone is welcome to attend. We especially hope that young adults from our parish and the Dayton area will be encouraged to attend.  Fr. Ted Cassidy, a Marianist priest, will be presiding over most of the Masses.   If you would like to participate in the Sunday evening services as a Eucharistic Minister, Server, Lector, Petition writer, Greeter, or Choir member, please contact our Parish office 937 274-2107 ext 100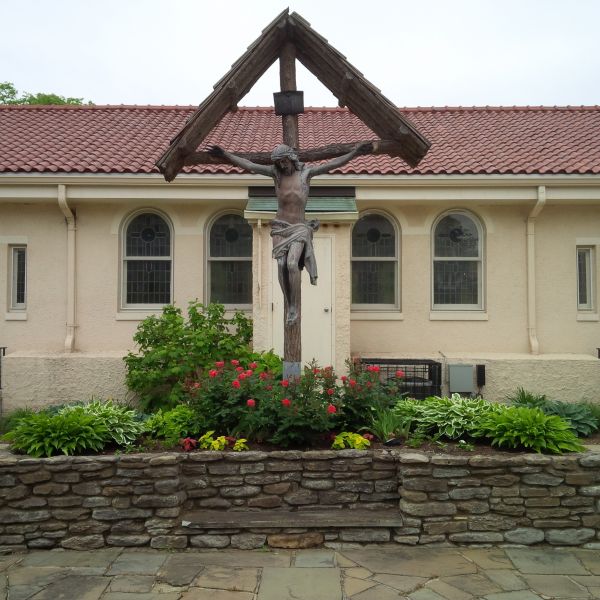 SPIRITAN PARISHES IN DAYTON - OHIO
SPIRITAN PARISHES IN DAYTON - OHIO

The Spiritans began working in Ohio (Fr. Steurer in Troy, St Patrick's, 1872, and Fr. Ott in Piqua, St Boniface, with 5 mission stations, 1873) even before the arrival of their 1st Provincial (Fr. Strub in 1874).
- In 1928, they took over the ministry to the African Americans in Cincinnati (St. John the Baptist Church). That same year, the Archbishop asked them to take care of the growing African American Community in Dayton.
- Since then, the Spiritans have dedicated their ministry among African American Catholics and all who joined, and they still are continuing ministering among urban and rural parishes.
- At the moment they serve 5 churches in the Dayton area: Corpus Christi, Our Lady of Mercy (Our Lady of Grace Parish), Queen of Martyrs Parish, St. Benedict the Moor, and St. Mary, striving to be a light that shines to brighten the life of the people they serve in the Archdiocese of the Most Rev. Dennis Marion Schnurr.
Assumption Food Pantry Joins CSSMV
For 49 years the Assumption Food Pantry has been a part of many lives: those who have received a helping hand when in need and those who have volunteered with love and dedication. It is with mixed feelings that we are no longer operating independently at the former Assumption Church site.
By God's glory our sorrows are always transformed to new life.  Tuesday, March 1, 2016, marked a new beginning as we partner with the Catholic Social Services of the Miami Valley (CSSMV) Food Pantry.  This partnership allows us to provide expanded services and resources to the Assumption Food Pantry clients. Cindy Rogerson will continue serving our brothers and sisters in need on-site at the CSSMV location, 922 West Riverview Avenue, and she will keep us up to date with news and information.
We would like to express our great appreciation to all who have volunteered their time and talent, and given monetary or food donations over the past 49 years.  Our Lady of Grace Parish is committed to the success of this new partnership and we pray that you will continue to help us support this vital community resource as you have in the past.  We will continue to provide food chests at each worship site for donations of staples and food pantry donation envelopes, and we encourage continued volunteerism at CSSMV.
Our Lady of Grace is possible because of those who give of their Time, Talent and Treasure.
Click here for more information about the CSSMV Food Pantry Website