Mass Schedule
OUR LADY OF GRACE PARISH

---

SUNDAY MASSES*
 1st Sunday of the Month**

 Sat

4:30 PM

Our Lady of Mercy Church

 Sun

9:00 AM

Corpus Christi Church

 

2nd thru Last Sunday of the Month

Sat

4:30 PM

Corpus Christi Church

Sun

9:00 AM

Our Lady of Mercy Church




---

WEEKDAY MASSES
Tue.
8:30 AM

Corpus Christi Church

Wed.
8:30 AM

Our Lady of Mercy Church

 
*Except Patronal Feast Day Celebration weekends.  Watch for announcements.
---
** A Saturday Mass Falling on the last day of a month is considered a 1st Sunday Mass.
| | |
| --- | --- |
| | REGIONAL MASS TIMES |
---

Queen of Martyrs Parish4134 Cedar Ridge RoadDayton OH 45414 
Sunday Mass
Sunday
11:00 AM
Weekday Mass
Thursday
   
8:30 AM
For more information visit http://www.qmdayton.org
upcoming events
Sunday, Aug 14th, 2022
Book Club-Founder's Hall
Start: 1:30 PM End:
Sunday, Aug 14th, 2022
Queen of Martyrs Assumption of Mary Celebration
Start: 12:00 PM End:
Monday, Aug 15th, 2022
Feast of the Assumption
Start: End:
Tuesday, Aug 16th, 2022
Charismatic Prayer Group
Start: 9:30 AM End:
Tuesday, Aug 16th, 2022
Neighborhood Meal
Start: 4:00 PM End: 5:00 PM
Tuesday, Aug 16th, 2022
NE-8 Family Worship Meeting
Start: 6:00 PM End:
Wednesday, Aug 17th, 2022
St. Vincent de Paul Meeting-Madonna Room
Start: 7:00 PM End:
Wednesday, Aug 17th, 2022
Neighborhood Meal
Start: 4:00 PM End: 5:00 PM
Thursday, Aug 18th, 2022
Queen of Martyrs Faith Formation Night
Start: 6:30 PM End:
Thursday, Aug 18th, 2022
Bereavement Meeting
Start: 11:00 AM End:
Sunday, Aug 21st, 2022
Installation of NE-8 Pastor
Start: 11:00 AM End:
Tuesday, Aug 23rd, 2022
Neighborhood Meal
Start: 4:00 PM End: 5:00 PM
Tuesday, Aug 23rd, 2022
Charismatic Prayer Group-Madonna Room
Start: 9:30 AM End:
Wednesday, Aug 24th, 2022
Neighborhood Meal
Start: 4:00 PM End: 5:00 AM
Friday, Aug 26th, 2022
NE-8 Joint Parish Council Meeting
Start: 6:00 PM End: 7:30 PM
Our Lady of Grace Parish Leadership
PASTOR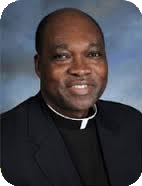 Fr. Francis Tandoh, C.S.Sp.
---
PAROCHIAL VICAR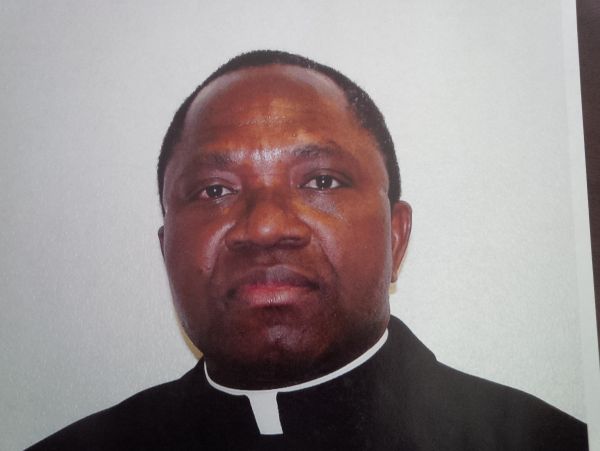 Fr. Benoit Mukamba, C.S.Sp.
---

The Congregation of the Holy Spirit Province of the United States - (spiritans.org)
Interesting facts about the Spiritans in Dayton, the USA, and around the globe on "The Pastor's Desk".
Today's Reading - NAB at USCCB.org
Saint of the Day - AmericanCatholic.org
USCCB on Religious Liberty
Fr. Benoit's "From the Pulpit"
Twentieth Sunday in Ordinary Time:  The Gospel as Factor of Division 
SCRIPTURE: Jeremiah 38: 4-6, 8-10; Psalm 40; Hebrews 12: 1-4; Luke 12: 49-53.
In our American families there are two subjects that one shouldn't bring in the family discussion unless the entire family belongs to the same group. The first topic is politics. The second subject is Religion. These subjects are considered as taboos and sensitive to deal within a family re-union. We live in a pluralistic society. None of us is open to listen to the truth from the other side. We don't want to offend each other with different perspective of the truth. We take refuge in our own in-group people who think and believe like us. We end up living in a lie that comforts us. We become convinced by platitudes as though they were proven scientific evidence or articles of revealed truths. The word of God calls us today to recognize the division that truth causes in the world where lies appear to dominate. But Jesus Christ is the Light that shines in darkness, and the darkness has not overcome it (John 1: 5).
 "Do you think that I have come to establish peace on the earth? No, I tell you, but rather division" (Luke 12: 51). This statement of Jesus spells out the plain truth of his revelation and ministry. It confirms the prophecy of Simeon at the presentation of the child Jesus in Jerusalem.  Then Simeon blessed them and said to Mary, his mother: "This child is destined to cause the falling and rising of many in Israel and to be a sign that will be spoken against" (Luke 2: 34). As a person, Jesus was not acknowledged as divine by all but only by a few people. He was finally accused of blasphemy by revealing that God is his father and he had come down from Him. His message of truth and good news of salvation became divisive despite the admiration of many who listened to him. The Scribes and Pharisees censured Jesus' miracles and treated them as works of Beelzebul (Mark 3: 22), the head demon.  While the people were astonished beyond measure, saying, "He has done all things well. He even makes the deaf hear and the mute speak." (Mark 7: 37). Through all trials and death, Jesus remained faithful to his Father and mission of salvation. The Prophet Jeremiah, too, stood for the truth and love of God in the midst of crooked leaders and a weak nation. He stands as a model of a good disciple of Christ.
Hence, the Letter to the Hebrews encourages us, followers of Jesus, to persevere in the midst of contradictions and trials standing on the side of the truth in the footsteps of the suffering Messiah and Teacher. The family of Jesus too thought he was out of his mind (Mark 3: 21). Family members and friends might despise us too for adhering to Jesus and his Gospel that will not bring us peace but more fire in loving Christ and his cross. Because of bearing witness to Jesus and to the true monastic life, Brother John of the Cross suffered pain and imprisonment at the hands of his fellow Carmelite monks. Venerable Francis Libermann of the Congregation of the Holy Spirit was cursed and disowned by his Jewish rabbi father and family because he had come to believe in the Lord Jesus.
Talking about Jesus and his Church at a family reunion may earn us a bad name and even rejection from the people we love. And yet, it is in bringing Christ in our conversation that we communicate the Good News of salvation to our brothers and sisters. Living and behaving according to the Christian values in some workplaces may cost us our jobs or respect from our peers. So be it because we are animated by the fire of Christ and our reward is greater than the present loss and humiliations.
Click here to also read past "From the Pulpit" reflections by Fr. Benoit Mukamba, CSSp.
Letter to the Faithful upon Overturning of Roe v. Wade
June 24, 2022
Dear brothers and sisters in Christ,
Today's Supreme Court decision in Dobbs v. Jackson Women's Health Organization, which reverses the Roe v. Wade decision of 1973, is a welcome and potential watershed moment in the history of the United States. This decision means that states, including Ohio, now have the option to legally protect the most vulnerable of all human beings: babies in the womb.
The constant teaching of the Catholic Church is that human life begins at conception. God alone is the Author and Lord of life. Therefore, the intentional taking of innocent human life is intrinsically evil and must always be opposed. Modern science only strengthens the Church's opposition to abortion, as advancements in genetics and prenatal imaging increasingly demonstrate that a unique human life begins at conception.
For the past 50 years, Catholics and other people of good will have peacefully prayed in front of abortion clinics, marched in Washington, D.C. and petitioned their lawmakers, hoping that the blessed day would come when communities would no longer be required by law to sanction the killing of innocent human beings in the womb. Equally important, we have assisted women in unexpected or crisis pregnancies with material resources and personal accompaniment, both during pregnancy and after their child is born. Expectant mothers can face many challenges, including lack of support from the father, financial strains, concerns about her own health and that of her child, and pressures from family and friends. Thank you to the pregnancy centers, Catholic Charities, St. Vincent de Paul conferences, Catholic healthcare systems and other wonderful pro-life ministries that have steadfastly walked with women in need, helping them navigate these difficult circumstances.
For a listing of the many resources available for women in unexpected or crisis pregnancies in the Archdiocese of Cincinnati, please go to https://catholicaoc.org/forlife.
Despite these efforts, more than 65 million innocent children have lost their lives to abortion in the United States since Roe v. Wade. This sad fact demonstrates the desperate need for conversion of hearts and minds to a culture of life in our country, one that respects the inherent dignity and sacredness of every human being from conception to natural death.
The reversal of Roe v. Wade will not by itself bring about this conversion, but prayer and a joyful outpouring of love and support for pregnant women, especially those most in need, will bring us closer. No woman should feel so alone, coerced or hopeless that she chooses to end her child's life through abortion. I urge everyone in our archdiocese to both pray for and actively assist all expectant mothers. Together, let us redouble our commitment to caring for women, children and families so that abortion is not only illegal, but unthinkable.
            O Blessed Mother, you received the good news of the incarnation of Christ, your Son, with faith and trust. Grant your protection to all pregnant mothers facing difficulties.
            Guide us as we strive to make our parish communities places of welcome and assistance for mothers in need. Help us become instruments of God's love and compassion.
            Mary, Mother of the Church, graciously help us to build a culture of life and a civilization of love, together with all people of good will, to the praise and glory of God, the Creator and lover of life. Amen.
Sincerely yours in Christ,
Most Reverend Dennis M. Schnurr
Archbishop of Cincinnati
U.S. Spiritans 150th Anniversary Prayer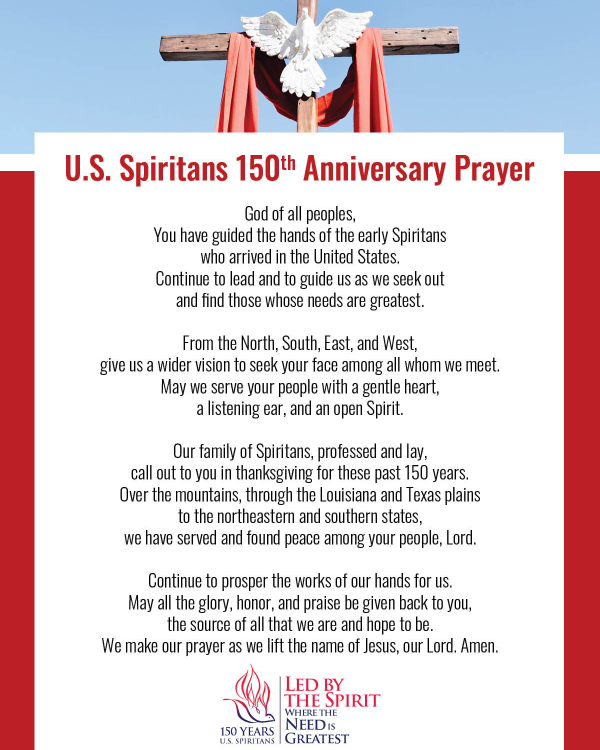 BEACONS OF LIGHT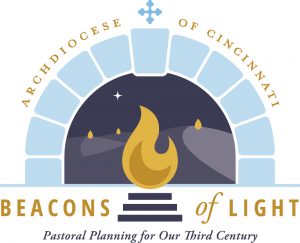 Beacons of Light Parish Families - Archdiocese of Cincinnati (catholicaoc.org)
After Noon on Sunday December 5th, click above to see the final Parish Family assignments on the Beacons of Light website.
The following links provide in-depth information from the Beacons of Light website:
Pope Francis' Letter, Fratelli-Tutti
http://www.vatican.va/content/francesco/en/encyclicals/documents/papa-francesco_20201003_enciclica-fratelli-tutti.html
Archdiocesan Holy Communion on the Tongue Guidelines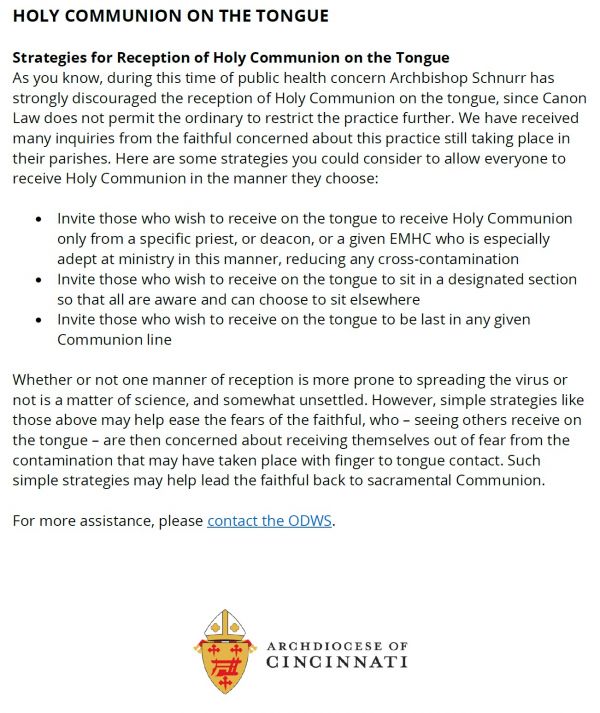 Our Lady of Grace Parish - Our Lady of Mercy Church + Corpus Christi Church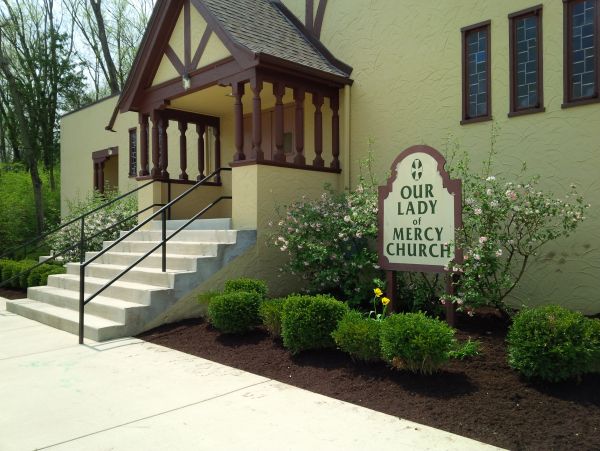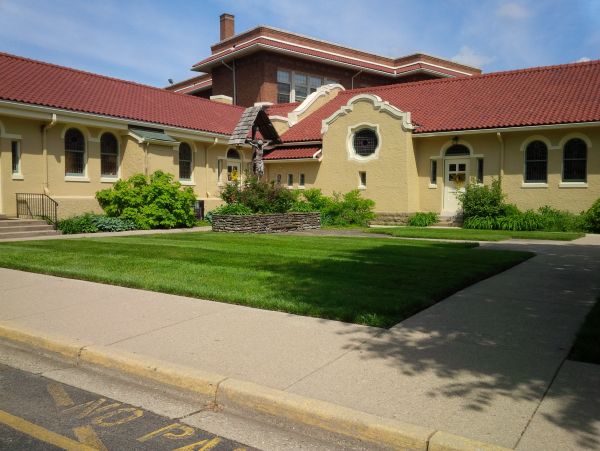 SPIRITAN PARISHES IN DAYTON - OHIO
SPIRITAN PARISHES IN DAYTON - OHIO

The Spiritans began working in Ohio (Fr. Steurer in Troy, St Patrick's, 1872, and Fr. Ott in Piqua, St Boniface, with 5 mission stations, 1873) even before the arrival of their 1st Provincial (Fr. Strub in 1874).
- In 1928, they took over the ministry to the African Americans in Cincinnati (St. John the Baptist Church). That same year, the Archbishop asked them to take care of the growing African American Community in Dayton.
- Since then, the Spiritans have dedicated their ministry among African American Catholics and all who joined, and they still are continuing ministering among urban and rural parishes.
- At the moment they serve 5 churches in the Dayton area: Corpus Christi, Our Lady of Mercy (Our Lady of Grace Parish), Queen of Martyrs Parish, St. Benedict the Moor, and St. Mary, striving to be a light that shines to brighten the life of the people they serve in the Archdiocese of the Most Rev. Dennis Marion Schnurr.